Simply A Great Machine: Ergo Master
Simply A Great Machine: Ergo Master

"…It's simply a great machine."
This is an excerpt of a testimonial from a company that uses the Ergo Master daily to ensure safety and efficiency while their shop floor welds products. But why exactly is the Ergo Master a "great machine," and how could it help you on your shop floor? Let's meet the Ergo Master so we can answer these and other questions you might have about this wonderful work positioner.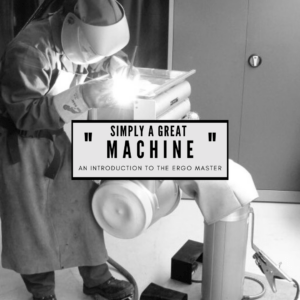 The Ergo Master is Ergotronix's manual work positioner, suitable for virtually any work situation and shop floor. With a small foot print and available in a wide variety of configurations, the Ergo Master is a perfect fit when simple manipulation to access work surfaces is needed.
The Ergo Master is available as a bench mounted (2-axis) or floor mounted (3-axis) manipulator for handling workloads up to 300 lbs. With an intrinsic center ball joint, the attached work can easily be rotated 360 degrees as well as tilted into any position up to 90 degrees simultaneously. This manipulation flexibility allows the operator to attain a work position that is comfortable and ergonomically conducive. The unique pneumatic friction adjustment, assures that all manipulation transitions between working positions are safe and can be tailored to the specific work piece loads. When in desired work position the work is locked into position by built-in spring force allowing for operator safety. When mounted on a lift column as a 3-axis manipulator, a flexible height adjustment to accommodate operator height requirements are simply achieved.
The Ergo Master brings a renewed sense of safety, quality, productivity, and efficiency to the modern shop floor. It has already done so for numerous companies, in fact, a company located in Florida provided this testimonial in regards to the improvements made using the Ergo Master:
"Today, the Ergo Master® work positioner enables easy manipulation to any suitable work position. The weld team is happy and we have within a short period been able to achieve improved efficiency, productivity, quality and safety. It's simply a great machine."
The Ergo Master is ready to work for you. This manual work positioner can be configured to fit your shop floor's needs. It truly is a "great machine" that has been designed to tackle your shop floor's ergonomic problems.